My Blog
Posts for: April, 2015
By Phares Family Dentistry
April 24, 2015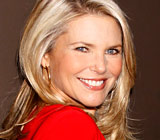 Christie Brinkley's world-famous smile has graced the covers of countless magazines for over 30 years. In fact, in her own words from an interview with Dear Doctor magazine, the supermodel said, "I think my smile was really my passport to success in the modeling industry." And while most of her smile's appeal comes naturally, Christie does give it a boost with good oral hygiene, regular dental checkups and tooth whitening. As Christie says, "When it comes to teeth, keep it as natural as possible. Do not go overboard on whitening. You want your teeth to compliment your face…your friends should not be required to wear sunglasses when you smile!"
Aside from some potential minor side effects such as tooth sensitivity, whitening teeth through bleaching is a relatively inexpensive way to brighten your smile conservatively and successfully. There are three common methods, as described below:
An external or vital approach where "vital" (living) teeth are bleached through direct contact to the tooth's surface.
An internal or non-vital approach where the tooth is whitened from the inside during a root canal treatment.
A combination approach in which both internal and external bleaching techniques are used.
But what causes teeth to become discolored?
Tooth discoloration can be caused by a traumatic blow to your teeth resulting in nerve tissue (pulp) death. However, there can be many other causes: consuming or using products that stain the teeth such as coffee, tea, cola, tobacco products and red wine, to name just a few. Aging is another factor, as it results in changes in the mineral structure of the tooth as the enamel, the outermost layer, loses its beautiful and youthful translucency. Other causes include exposure to high levels of fluoride; tetracycline, an antibiotic, administered during childhood; inherited developmental disorders and jaundice in childhood; and tooth decay.
The good news is that we routinely brighten smiles through tooth whitening. To learn more about brightening your smile, continue reading the Dear Doctor magazine article "Teeth Whitening." Or if you are ready to have your teeth professionally whitened, contact us today to schedule an appointment so that we can conduct a thorough examination and discuss your whitening treatment options. And if you want to read the entire feature article on Christie Brinkley, continue reading "The Secret Behind Christie Brinkley's Supermodel Smile."
By Phares Family Dentistry
April 09, 2015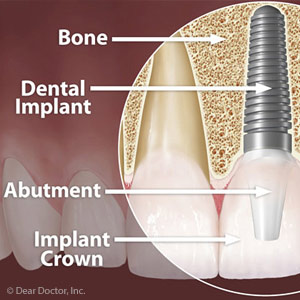 Dental implants are widely recognized as the best tooth replacement option available. For most people, though, it's a long process: after a tooth is extracted the socket is allowed to heal and fill in with new bone before implant surgery: that can take anywhere from two to five months. Afterward, there's usually a two– to three–month period after the implant is placed before the permanent crown (the visible tooth) can be attached.
Without adequate bone present the implant's long-term stability might be compromised. Furthermore, the implant's durability is dependent upon bone growth around and attaching to its titanium post after surgery in a process known as osseo-integration. These two considerations indeed serve a critical function in the implant's ultimate success.
In recent years, however, a variation to this traditional implant process has emerged that allows for immediate implantation right after extraction. Besides combining extraction and implantation into one surgical procedure, immediate implants minimize the disruption to a person's appearance (especially with visibly prominent front teeth) when combined with a provisional crown.
Immediate implants joined together that replace a full arch of teeth can receive biting forces and succeed. Individual implants that replace single teeth, however, won't work in all situations and must be undertaken with care to ensure long-term success. Because there may be less available bone, the implant must fit snugly within the socket to maintain as secure a hold as possible. The surgeon must also take care not to damage too much of the gum and bone tissue when extracting the tooth, which could affect both the integrity of the implant and its appearance in the gum line.
Temporary crowns may be attached during the implant surgery, but they're installed for appearance' sake only. For individual crowns, they must be designed not to make contact with the teeth on the opposing jaw to avoid generating biting forces that will cause the implant to fail and stop the bone-healing process that occurs with osseo–integration.
If you're considering dental implants, it's important to discuss with us which type of procedure, traditional or immediate, would be best for you, and only after a comprehensive examination of your mouth and jaw structure. Regardless of the approach, our goal is to provide you with a smile-transforming restoration that will last for many years to come.
If you would like more information on the dental implant process, please contact us or schedule an appointment for a consultation. You can also learn more about this topic by reading the Dear Doctor magazine article "Immediate Implants."